Research Interests – Education – Experience – Publications
Personal info
| | |
| --- | --- |
| Position | PhD student |
| Email | alejandra.martinez@ehu.eus |
| Website | alejandramtzquintero.academia.edu |
| Phone | 943018878 |
| Address | EHU/UPV, Department of Logic and Philosophy of Science, Avenida de Tolosa 70, 20080 Donostia – San Sebastián |
Summary
---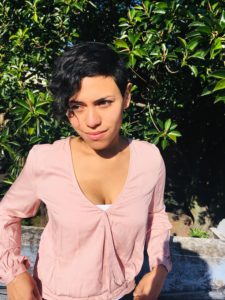 My background is a mix between philosophy and anthropology, applied to topics on Gender Studies and then in Science, Technology and Society Studies. Recently I have stepped into Philosophy of Cognitive Science and Phenomenology, with a particular emphasis on female bodies and menstruation. I collaborate with Hanne De Jaegher, Arantza Etxeberría, Laura Nuño, Mihaela Pavlicev, and others, to open a new research line within IAS Research for investigating the forgotten aspects of the female body in Philosophy of Science.
Research interests
---
Menstrual cycle
Pregnancy
Enaction
Feminist phenomenology
Intersubjectivity
Violence
Education
2017-2021 PhD in Philosophy, Science and Values, University of the Basque Country (UPV/EHU)
2015 – 2016 Master in Philosophy, Science, and Values, University of the Basque Country (UPV/EHU)
2010 – 2015 Bachelor in Intercultural Development, National Autonomous University of Mexico (UNAM)
Experience
2014 – 2016 Research Project. Territory, Violence, and Construction of Identities,
(PI) Mariflor Aguilar Rivero, funding by the National Autonomous University of Mexico and National System of Researchers (SNI)
Publications
---
Martínez Quintero, A. & De Jaegher, H. (2020) Pregnant Agencies: Movement and Participation in Maternal–Fetal Interactions. Frontiers in Psychology 11: 1977. https://doi.org/10.3389/fpsyg.2020.01977.
Martinez Quintero, A., & Díaz Araiza, V. (2016). Tejiendo lo común desde los feminismos: Economía feminista, ecofeminismo y ciberfeminismo. Boletín Científico – EDÄHI, 7.
Research stays
---
2018-2019. 4E Cognition Group. Embodied, Embedded, Extended, Enactive. with Tom Froese in the Institute of Research in Applied Mathematics (IMAS -UNAM).