Research Interests – Education – Experience – Publications
Personal info
Position
Postdoctoral Researcher
Email

Website

sesparzas@ciencias.unam.mx
Phone
+34 943 01 5516
Address
EHU/UPV, Department of Logic and Philosophy of Science, Avenida de Tolosa 70, 20018 Donostia – San Sebastián
Summary
---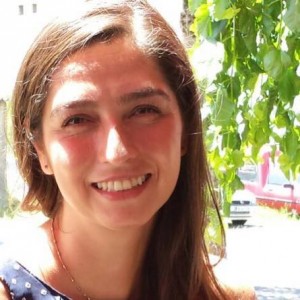 Martha Susana Esparza Soria obtained her PhD in Philosophy of Science, in the School of Philosophy and Literature (FFyL) at the National Autonomous University of Mexico (UNAM, 2014), with a specialization in history of science. She holds a Master's degree in Philosophy of Science (UNAM, 2009), a Master's degree in Philosophy, Science and Values with a specialization in Philosophy of Biology, at the University of the Basque Country (UPV/EHU, Spain, 2009), and a Bachelor's degree in Biology (UNAM, 2006). She has received full grants for all her postgraduate studies by the Mexican National Council of Science and Technology's (CONACyT) National Program for Postgraduate Quality.
Since 2005, she has been a professor in the Faculty of Sciences at the UNAM, where she gives courses, workshops and lectures on evolutionary thought, with diverse scopes such as; evolutionary biology, philosophy, history and didactics. She has advised and participated in the jury of many bachelor's thesis on Biology. Her research topics are the history and philosophy of biology, in particular evolutionary thought, as well as the outreach and education of evolutionary biology.
In 2010, she was part of the organizing committee at the event "Science at the Centenaries", to celebrate the scientific achievements during the Mexican Independence and Revolution, also in 2009, at the "Year of Evolution", held by the UNAM and the Mexican Academy of Sciences. In 2006, she participated as scientific advisor in the design of the exhibition hall "Evolution, life and time", in one of the most important museums of science in Mexico (UNIVERSUM).
From 2011 to 2016, she was one the the professors appointed to carry out the project "Learning about evolution", to elaborate didactic materials on evolution for primary and secondary school. One of the project's main achievements was to publish the electronic book "Evolutionary Biology for High Schools", edited by the Faculty of Science, UNAM.
Presently she holds a full-time post-doctoral fellow position in the IAS Research Group, Center for Life, Mind and Society, in the Department of Logic and Philosophy at the UPV/EHU, with a full grant by CONACyT, on the topic "Evolutionary thought as an epistemic category: from Darwin to the extended evolutionary synthesis". During this time she has participated in several conferences and workshops, with the following papers:  "Evolutionary Thought: an Embraced Metaphor during the Porfiriato's Scientific Culture", in co-authorship with Rosaura Ruiz PhD (Faculty of Sciences, UNAM, 2016); "Epistemological obstacles and fundamental problems: Two Research Approaches to the Didactics of Evolutionary Biology" in co-authorship with Eréndira Alvarez Pérez PhD & Ma. Cristina Hernández Rodríguez PhD (in press); "Epigenetic Variation in Population Studies" and "The Epigenome in the Evolution: the Role of Epigenetic Variation in Contemporary Evolutionary Biology", with Asociate Professor Arantza Etxeberria (manuscript in preparation).
Research interests
---
History of Science
Philosophy of Biology
Evolutionary Thought
Science and Education
Popular Science
Publications
---
Book
Book chapters
ALVAREZ Pérez, Eréndira; Hernández Rodríguez Ma. Cristina y ESPARZA Soria Martha Susana "Obstáculos epistemológicos y núcleos problemáticos: dos enfoques de investigación en la didáctica de biología evolutiva". En: Z. Monroy, R. León y Germán Alvarez (Eds), 2017,

Obstáculos epistemológicos en la enseñanza y el aprendizaje de la filosofía y de la ciencia.

Facultad de Psicología UNAM, México. (In press)

ESPARZA Soria, Martha Susana y Ruiz Gutiérrez, Rosaura (2016). "El pensamiento evolutivo: una metáfora naturalizada en la cultura científica del porfiriato". En: Nicolas Cuvi, Elisa Sevilla, Rosaura Ruiz y Miguel Ángel Puig-Samper (Eds),

Evolucionismo en América y Europa. Antropología, biología, política y educación.

Doce Calles de Madrid, FLACSO Ecuador, la Universidad Nacional Autónoma de México y la PUCE-Quito, México, P. 265-286. ISBN: 8497442016 ISBN-13: 9788497442015

ESPARZA Soria, Martha Susana (2014). "La construcción de la cultura científica en México: el pensamiento evolutivo en la prensa porfiriana". En: Vega y Ortega, R. A y Morelos, R. L. (Coords), 

Estudios históricos sobre la cultura mexicana en los siglos XIX y XX.

HCH, México, P. 87-118.

RUIZ Gutiérrez, Rosaura; ESPARZA Soria, Martha Susana y Noguera Solano, Ricardo (2010). "Positivismo y Darwinismo: arquitectura interna de los debates del México decimonónico". En: Ruiz, R., Argueta, A. y Zamudio, G (Coords), 

Otras armas para la Independencia y la Revolución. Ciencias y Humanidades en México.

FCE, México, P. 189-209.
Journal articles
Popular science
ESPARZA Soria, Martha Susana, "Evolución biológica: ¿un hecho o una teoría?, 

Mayo de 2014, N0. 14, Boletín ENCIENDE. Chispas de ciencia. ISSN 2341-2305 Available on-line at:  

http://enciende.cosce.org/boletin/sumario.asp?item=623

ESPARZA Soria, Martha Susana, Alvarez, P. y Noguera, S., "Lynn Margulis: la vocera del microcosmos". Marzo de 2012, Año 14, No. 160. Revista de Divulgación de la Ciencia de la Universidad Nacional Autónoma de México. ISSN 1870-3186.

ESPARZA Soria, Martha Susana, "Los senderos de Darwin". Revista Digital Universitaria [en línea]. 10 de junio 2009, Vol. 10, No. 6 [Consultada: 11 de junio de 2009]. Available on-line at:  

http://www.revista.unam.mx/vol.10/num6/art33/int33.htm

ISSN: 1607-6079.

ESPARZA Soria, Martha Susana, RODRÍGUEZ  Caso, Juan Manuel, NOGUERA Solano, Ricardo, "La Selección Natural: criatura de dos padres". Junio del 2008, Año 10, No. 115. Revista de Divulgación de la Ciencia de la Universidad Nacional Autónoma de México. Available on-line at:  

http://www.comoves.unam.mx/ant_122_04.html

ISSN: 1870-3186.
---
---
More publications coming soon…